Myanmar SEO Services
Myanmar SEO Services become popular day by day. Even you have a very good website, you still need SEO maintenance for your website. Every website needs SEO services because every website is made for visitors to visit. With our Myanmar SEO service, you will get more visitors and those visitors will be target audience.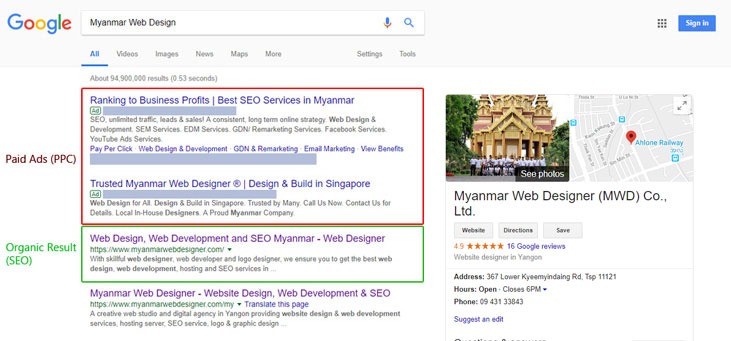 Myanmar SEO is an industry which demands are rising day by day. Nowadays, internet users do not used to remember the website addresses (url). If they want to know something, they just type the keywords in search engines (Google, Yahoo, Bing …). That is the main reason why your website need to get higher ranking in those search engines' search result.
To get higher ranking, Search Engine Optimization (SEO) must be done. If you are not familiar and don't know what SEO is, please read what is SEO in our free website knowledge section.
[ Notice: We of course do basic SEO tasks for all our clients but if you have your specific keywords to rank for, your website is not enough with basic SEO service. In that case you'll need our standard SEO service. ]
Search Engine Optimization is the process of performing a bunch of sophisticated techniques and practices in order to get a website more traffic via search engines (such as Google, Yahoo, Bing ...).
Google said "some company take money for SEO but put your website in Search Engine Result Page's (SERP) ad section". This cost a lot more because of pay per click system. The cost is depending on your website traffic. This method is not technically skillful. It is not SEO but a kind of SEM (Search Engine Marketing) because it has to pay search engines to do marketing. SEO is technically skillful job to get higher ranking and the cost do not depend on your website traffic. Therefore, although your website is getting higher traffic, the cost is fixed.
We, Myanmar Web Designer, accept local SEO projects and outsource project from Singapore. Please contact us and request SEO quotation today. It's much cheaper than other SEO firms but more powerful and effective than other SEO companies.
Our SEO Strong Points
Strong point means the difference from other providers in good way. We have a lot of such strong points.
(1) We do not only concentrate on Google. We concentrate mainly on Google, Yahoo and Bing.
Although Google is the most authoritative, Yahoo and Microsoft's search engine (Bing) are also authoritative search engines. Their popularity depends on territory. Therefore, it is important to rank well in those very major search engines. The better the ranking, the higher website traffic is. And these traffic can turn into businesses.
(2) Our website optimization is 
VERY

 powerful

Google give higher ranking to fast websites because Google don't like the websites that take long time to finish downloading. And so do other search engines. Therefore, for better ranking, website optimization MUST be done. We optimize your website to match the requirements of Google's page speed and Yahoo's Yslow. Our website optimization is powerful enough to get "grade A" in both Google's and Yahoo's speed testing tool. After we optimize, your website will considerably be fast.
(3) Effective and appealing internal and external link building
(4) Both users and search engines love our content writing system